Simon Byron
Yogscast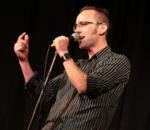 Simon Byron, Director of Publishing, Yogscast Games.
Simon recently joined Yogscast Games, part of the Yogscast entertainment network - home to over 40m YouTube subscribers, 10m Twitch followers and a wider social footprint of over 1m.

At his previous company, he was part of the team which won six awards: Publishing Hero, Develop Awards 2017; MCV Industry Hero and Indie Games Publisher of the Year in 2018; and the unprecedented 'Triple Crown' of UK publishing awards in 2019, picking up accolades from MCV, Develop and TIGA. Before that, Simon worked at various PR and marketing agencies, where he spearheaded the launch of multiple global hits such as the Batman Arkham series of games, Pokemon X&Y and the Guitar Hero franchise, where he led European media relations from the first game to Guitar Hero 5.

Co-author of two books on the games industry, and co-host of One Life Left, the world's longest-running videogames radio show, Simon remains as committed and as passionate about gaming as ever.
Simon Byron is speaking at the following session/s
Simon and Jonathan's Games about Games
As the Develop conference ends and we return to our designated workspaces full of all the brilliant stuff we've just learned, it's time for one last charade.
No, not "an absurd pretence intended to create a pleasant or respectable appearance" – we're not Activision pretending to care about unions! – but 'charade' as in 'Charades' as in the "game in which players guess a word or phrase from a written or acted clue given for each syllable and for the whole item."
Join your regular hosts Simon Byron and Jonathan Smith for five rounds of party games where we apply a unique videogames spin to traditional – and not so traditional – party games.
There's free drinks sponsored by Nordisk! And the chance to win a conference pass for next year!
Session speakers