Will Freeman
Freelance Games Journalist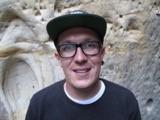 Will is a freelance video game journalist and author who also serves the industry as an event curator, copywriter, awards judge, content strategist and editor. While he writes for the national and gaming press – from The Guardian to Edge – he also frequently pens copy for industry publications and organisations, having formerly stood as editor of Develop magazine. His other work in games has seen him serve BAFTA, the BBC, Ukie, The Wellcome Trust and The Science Museum. Beyond writing about the industry – and its people, technology and culture – Will is a devotee to arcade gaming. He has too many hobbies, and spends far too much time with a yo-yo.
Will Freeman is speaking at the following session/s
Art Direction: The New Challenges of 2022
A panel of Art Directors from across the industry will discuss:
How to create distinctive styles that make your game stand out.
How to keep the art team inspired and on track with the visuals.
What the future looks like for artists, considering the visual advancements in UE5, PS5, Photogrammetry etc
What has been the most inspiring game for them visually and why.
What are the greatest skills required of an Art Director.
How has being an Art Director changed over the past 10 - 20 years in games.
Session speakers