Tom Colvin
Media Molecule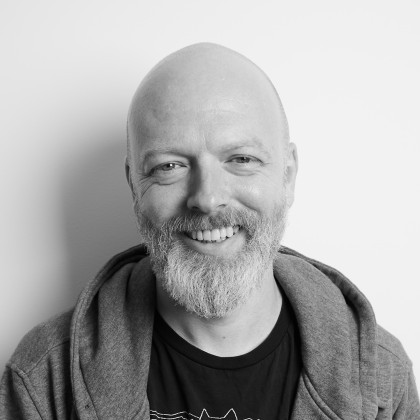 Tom is the Head of Audio at Media Molecule. His 19-year game audio career includes a long stint as the Audio Lead at Ninja Theory (releases include Heavenly Sword, Enslaved and DmC: Devil May Cry), and working with Microsoft's Central Audio Service. He has also created the entire audio content for successful mobile titles, including Sir Benfro's Brilliant Balloon (Apple featured Best Apps of 2012) and Total Snooker (globally recognised Android game).

Growing up in the Spectrum 48k area, he programmed games in BASIC and played with tape machines whilst learning the guitar. Playing in numerous bands and creating lo-fi techno 4 track cassette machine and synth recordings, Tom spent many long nights in the studio trying to figure out how it all worked.

He is currently working on Dreams, a platform for games which provides users with digital creativity across a wide range of opportunities including Art,

Animation, Films and Music. Dreams has won numerous awards including a BAFTA for Technical Achievement.

Tom also loves food, cats, trying to play every stringed instrument and reading novels.
Tom Colvin is speaking at the following session/s
Tom's Clicks and Glitches: A Professional Confessional
Game dev conferences are full of tales of shiny things and glorious successes - but this talk is different! We are going to discuss failure. Listen gleefully as Tom Colvin (Audio Lead for Media Molecule, formerly Microsoft and Ninja Theory) recounts a catalogue of mishaps, mistakes, goofs and howlers. We will hear how they happened, what was learned, and some guiding principles for avoiding some of the pitfalls of working in game audio. Fear of failure is the enemy of creativity, so we will reflect on how to work creatively, stay inspired and serve other people's vision without crushing your own artistic soul.
Session speakers
Open Mic 2022
In keeping with Develop Conference tradition, our panel of game audio experts limber up for an inclusive town hall style discussion with conference delegates about the current state-of-the-art of music, sound and dialogue for games and what the future holds for game audio business, technology and creativity.
Session speakers