Jacob Mills
Roll7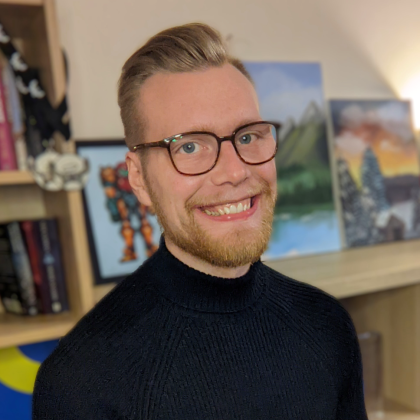 Jacob Mills is a Senior Level Designer working at Roll7, with prior credits on titles from Ubisoft and TT Games including Tom Clancy's The Division 2, LEGO Dimensions and LEGO Marvel's Avengers. Jacob is passionate about demystifying the inner workings of the games industry, providing insight and leveling the playing field for everyone who wishes to join it - to that end he champions wellbeing and inclusion, serving on the D&I Committee at Roll7, mentoring through Limit Break, and volunteering with the Video Game Ambassadors programme to connect with and give a leg up to the next generation of game developers.
Jacob Mills is speaking at the following session/s
Closing the Gap - Designing Levels for a New Genre in Rollerdrome
Tuesday
2:00pm - 2:45pm
Room 1
Rollerdrome combines skating and shooting, two well trodden verbs in games, to create something entirely new - an arena-based skater-shooter. While its influences are worn on its sleeves, the act of blending these two genres births a set of entirely new design challenges that require their own unique solutions for this project.
In this talk, Roll7 Senior Level Designer Jacob Mills will give insight into his experience joining a new team working in an entirely new genre, chronicling the initial stumbles and offering practical advice on utilising the design process to style it out, pull a 180 and hit the ground rolling.
Session Takeaway
Starting work in a new or unfamiliar genre is hard - how can we embrace that unfamiliarity and turn it from an obstacle to be overcome into an effective tool to be used?
Level design extends beyond greybox - taking time to view the new project through a game design lens will provide new insight into what's needed for the level design to shine
Understand how to formalise your own process; utilise it to solve fresh problems
Session speakers