Imre Jele
Bossa Studios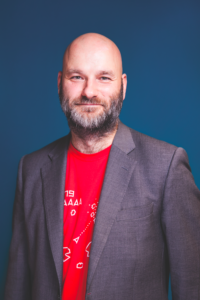 Imre is a lifelong gamer and game-creator. He is an expert in creativity, prototyping, game design and creative production.
Throughout his colourful career, Imre has worked on a wide range of game genres and platforms. He was Head of RuneScape. He co-founded and was Chief Creative Officer of Bossa Studios - winner of multiple BAFTA and other awards, creator of Surgeon Simulator and I Am Bread.
His most recent focus is on novel storytelling through gameplay and immersive experiences. He's passionate about cooperation across various media and art forms. And he's known for promoting innovative and collaborative creative approaches within development teams and including the audience.
Imre is on the board and advisor of multiple companies. He provides creative and creative production services to various games and other entertainment companies. And he is building a brand new games studio, creating new games in secrecy for now.
Imre Jele is speaking at the following session/s
Games are the Future, But We Mustn't Forget Our Cultural Past
Tuesday
4:00pm - 4:45pm
Room 3
There are thousands of years' worth of art and entertainment knowledge out there game developers often ignore. We and our games are poorer because of it. Games are the future, but that does not mean we should ignore the past.
It is time to challenge the traditional boundaries and barriers between different artistic disciplines and forms of entertainment!
I interviewed a bunch of people from various creative spaces from film set designer to theatre director, from best-selling author to fashionista etc and of course I drew from my own experience including adapting Orwell's Animal Farm into a game.
In the talk I cover business, creativity, content, team building questions. And I gave both generic inspiration and specific actionable suggestions.
Session Takeaway
What can games development learn from the history of other art forms?
How can we best use talent from other forms of entertainment?
How to break out of the closed culture of games to innovate and reach new audiences?
Session speakers