Georgi A. Simeonov
JUMPSHIP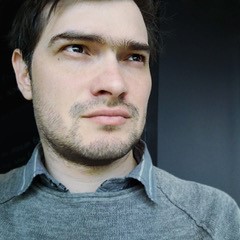 Art director at JUMPSHIP (previoustly Unity, Splash Damage & Haemimont Games) - world builder, concept artist and illustrator.
I started making and illustrating my own board games as a kid inspired by the promise of early video games that I did not have much access to and richly illustrated science, geography and natural world encyclopedias I collected.
Studied software development at secondary school and Classical Animation at uni, got my firs job at the games industry before I graduated.
At this point I have close to 20 years of game development experience, spanning table top RPGs, a variety of video game genres (RTS, FPS, Andventure) and short film.
During that time I've occupied most art positions - generalist ( working on textures, props, UI, concept art), lead artist, concept artist and ultimately working as an art director/production designer at Splash Damage, The Unity Demo Team and currently at JUMPSHIP, completing our first independent game project Somerville.
Georgi A. Simeonov is speaking at the following session/s
Art Direction: The New Challenges of 2022
A panel of Art Directors from across the industry will discuss:
How to create distinctive styles that make your game stand out.
How to keep the art team inspired and on track with the visuals.
What the future looks like for artists, considering the visual advancements in UE5, PS5, Photogrammetry etc
What has been the most inspiring game for them visually and why.
What are the greatest skills required of an Art Director.
How has being an Art Director changed over the past 10 - 20 years in games.
Session speakers