Alistair Aitcheson
The Incredible Playable Show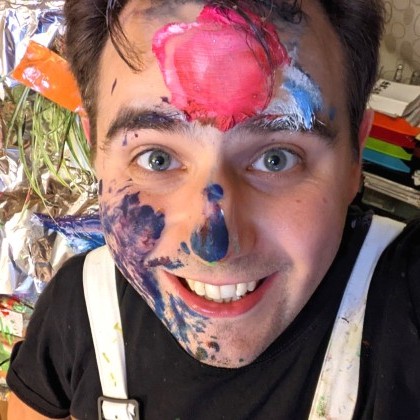 Alistair Aitcheson is an indie developer specialising in alternative controllers. He develops interactive performances which take place both on the stage and over livestream. He loves to encourage players to bend rules, get creative and make a mess. Alistair is the creator and host of the stage show The Incredible Playable Show, which won the IndieCade Jury Choice Award in 2017. His work has been nominated for awards at A MAZE and Alt.Ctrl.GDC, and performed around the world. His most recent work, Artholomew Video's Stream Challenge, is a series of creativity challenges designed to be played over livestream. Involving painting, screenwriting, improv, dancing and a lot of audience-led chaos, it won the Performance Award at IndieCade in 2022.
Alistair Aitcheson is speaking at the following session/s
Interactive Session: Empowering Creative Play
Wednesday
1:00pm - 1:45pm
Room 1
Alistair Aitcheson is the designer and host of award-winning [video game live shows](https://playable.show). Drawing on a portfolio of work that encourages physical movement, cheating and chaos - as well as 5 years' experience as an amateur clown - he will demonstrate how to design games and challenges that empower players to be creative and expressive.
Alistair will explore creative activities designed to build emotional connections, as well as how he built his latest project - livestream game [Artholomew Video's Stream Challenge](https://artholomew.video) - to open up painting and performance art to participants who do not see themselves as creative. He'll also explore the gamelike structures of clowns and the surrealists, and how they can be used to conjure up surprising and unusual experiences in the digital age.
This talk will be ideal for anyone who wants to build games that build personal connections with their players, and provide inspiration for any designer who wants to enrich their projects with flexibility and unpredictability.
Session Takeaway
Build flexibility into your design
Understand why someone would be afraid to interact/explore
Allow players to make a mark and claim ownership of the experience
Give room for players to introduce make-believe, but also provide a context for that make-believe build from
Session speakers