Adele Cutting
Soundcuts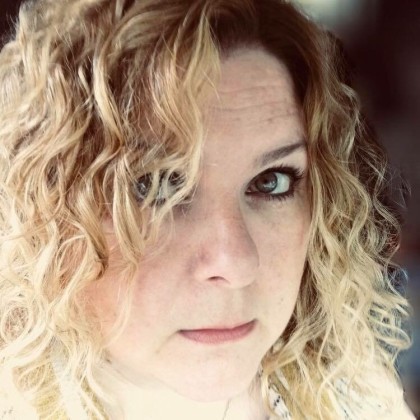 Adele Cutting is a BAFTA award-winning audio professional with 20+ years' experience in directing actors, audio direction, designing sound, music editing and casting and covering all things audio across games, TV, installations, mobile, VR and Audio Drama.
In 2011, Adele founded audio production company, Soundcuts Ltd, winners of both Develop and TIGA awards.
Before Soundcuts, Adele spent 15 years at EA, working her way up the ranks from Junior Sound Designer to Senior Audio Director, working on blockbuster titles such the Harry Potter franchise (on which she wore both audio and voice director hats), plus well known cult classics Populous the Beginning and Theme Park World.
Recent titles Adele has worked on include Assassin's Creed Odyssey (UK and Athens Voice Direction), Immortals Fenyx Rising (UK and Athens Voice Direction) The Room Old Sins (Sound Design), Pinky Malinky (Music Editing and coordination), Astrologaster (Voice Direction), Elements - a James Bond cinematic installation in the alps (Sound Design and Music Editing), Planet Zoo (Speech production (Casting/Direction/PostPro).
Adele regularly sits on juries for various sound awards (BAFTA, MAS and the Game Audio Network Guild) and regularly talks at Universities and Game Industry events.
Adele Cutting is speaking at the following session/s
Open Mic 2022
In keeping with Develop Conference tradition, our panel of game audio experts limber up for an inclusive town hall style discussion with conference delegates about the current state-of-the-art of music, sound and dialogue for games and what the future holds for game audio business, technology and creativity.
Session speakers
Post-Pandemic Directions for Game Audio Employment
Has the COVID Pandemic changed the working landscape forever? With the continuing boom in video games development and an unprecedented level of open roles for Game Audio, what are the challenges and possible solutions to both deliver and innovate? With many developers exploring hybrid and remote working, there are potentially more opportunities to hire experienced talent - but at what cost? Veteran Head of Audio and Audio Director, Alastair Lindsay discusses future directions and issues for game audio employment with a panel of special guest experts.
Session speakers