Will Freeman
Freelance Games Journalist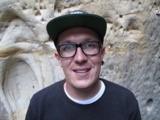 Will is a freelance video game journalist who does all kinds of other work in the games industry, serving as an editor, author, event curator, copywriter, awards judge and sometimes script editor. While he writes for the national and gaming press – from The Guardian to Eurogamer - he also frequently serves industry publications, having formerly stood as the editor of Develop magazine. Beyond writing about the industry – and its people, technology and culture – Will is a devotee to arcade gaming. He's also a competitive yo-yoer, and in 2018 won an actual UK champion trophy; it's plastic… and from the beginner division.
Will Freeman is speaking at the following session/s
The Story of Oddworld: Soulstorm
Wednesday 27th October:
17.00 - 17.45
Room 2
Oddworld: Soulstorm's journey began in 2014 as the team was finishing up Oddworld: New 'n' Tasty and ventured its way toward a next-gen push, assisted by Unity's high-fidelity visuals, but it all ended up teetering on a technical moonshot to bring it all home…and that's just the beginning.
Host: Will Freeman, Freelance Journalist
Please note: This session will be via a live video link for conference pass holders as the speakers can't currently travel to the UK.
How and which partnerships to build when creating a game
Learn about successes and failures when developing for both previous and next generation consoles
How to handle a challenging release and re-release a game, both internally and externally with the community