Ugonna Nwosu
Out Making Games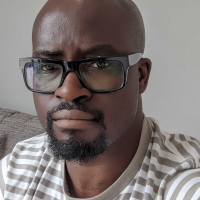 Ugonna is a Senior Web Developer at Rocksteady Studios building internal tools for developers, management and support teams. He has previously worked at Square Enix building numerous promotional websites. He has a keen interest in ensuring the games industry is a welcoming place for LGBTQ+ community members as well as other historically marginalised groups.
Ugonna Nwosu is speaking at the following session/s
LGBTQ+ Roundtable
Wednesday 27th October:
12.00 - 12.45
Room 6
A roundtable discussion led by Elli Shapiro and Ugonna Nwosu from Out Making Games, a community interest company established to connect and empower the LGBTQ+ community working in the games industry across the UK. Join us for a conversation about sexuality and gender issues in the content, creation and culture of video games. This is a welcoming space to share your stories and learn from the experience of others in a forum for LGBTQ+ games professionals and students to have frank conversations about the challenges they face.
Takeaway:
We will be leveraging the experiences of the attendees to build takeaways such as... ...an understanding of the concerns of LGBTQ+ individuals working in the games industry ...techniques shared from first-hand experiences of celebrating diversity in workplaces ...tips and tricks for pushing for better in-game representation from within the industry ...building a sense of community and optimism for the future!