Tim Fletcher
Jagex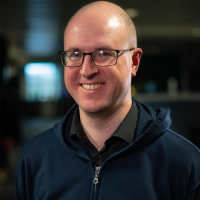 Tim Fletcher is a Senior Designer at Jagex, where he operates under the secret codename Mod Jack. He leads the narrative design for Runescape, the world's second largest MMO. His proudest career accomplishment is responding to player feedback in a parody of the song You're Welcome. In his spare time, he is currently writing a full campaign for Arkham Horror: The Card Game.
Tim Fletcher is speaking at the following session/s
Avoiding the Pitfalls of Interactive Narrative
Wednesday 27th October:
16.00 - 16.45
Room 2
Games are an interactive medium. Adding interactivity to the story is a great way to make them more compelling. Players want to feel like their decisions impact the game and the game world, but this often conflicts with the production constraints of game development. Even games with huge budgets offer choices to the player they can't follow through on, resulting in a disappointing experience. This is completely avoidable, and depends entirely on the choices that are offered. In this talk, Tim presents several examples of interactive stories, including Runescape, World of Warcraft and Mass Effect. He examines what they did right and wrong, the consequences of those design decisions, and specific examples of what could have been done differently. Finally he presents a set of more general principles that can be used to take this learning and apply it to any game.
Create choices which add compelling interactivity to your story.
Avoid choices which will inevitably lead to disappointment.
Choose the right number and scale of choices for the story you're telling.