Taylor Campbell
Orthors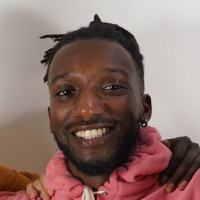 Born and bred in east London, I was raised by a small family of four. Influenced by my Dad using programs such as Adobe Photoshop, Bryce, 3D Studio Max and reading Computer Arts mags in the 00s, there was no doubt that this would be the start of my career in the world of design.
I took advantage of this in secondary school which had the best technology in the borough. Rather than completing my IT work, I would spend my lessons getting to grips with the basic tools on Photoshop and Illustrator. Luckily Mr. Ramaya saw this talent and didn't try to hold me back. Shout out man like Danny Ramaya! I took my talents to Uni where I studied Graphic Design and mastered my craft and understanding of the subject. This lead to a key moment in my life. Pretty much going broke a year after leaving Uni. It wasn't necessarily rock bottom but it was the push needed to get my life going. From that moment I began to look for different avenues (apart from the normal 9-5) to make a living. I started off by freelancing which gave me the time to reflect on what possibilities were available. This lead to the creation of Orthors. My childhood friend aka brother Max was looking for the same opportunities and we were able to link up and use each others skillsets to create what was the first steps towards the journey we are now on.
Orthors is London's black owned gaming company, aiming to create authentic black narritives for our culture whilst being at the forefront of fresh diverse talent within the gaming industry.
Taylor Campbell is speaking at the following session/s
Orthors Story: Running a Black Owned Games Studio
Tuesday 26th October:
11.00 - 11.45
Room 2
From players to creators, Orthors will be diving into the key aspects faced when making their games - from figuring out how to develop a game with no coding experience, to watching their game being published on the Apple App store. Building a game has its layers and they aim to help people to be better prepared for the hurdles they may face whilst walking the same path. Orthors realised the importance of branding, and the impact it has on taking your IP/ project that one step further is something that is usually overlooked. They will go over how to set yourselves apart from other games studios by displaying their creative processes, how to self assess and refine ideas and the importance of putting a face to your brand. Business is a worrying side within the gaming industry that most people shy away from. A pivotal moment for Orthors was being told to set up their business legitimately and get an accountant. Brilliant advice! They will break down the important lessons learnt in regards to running a games studio from a business perspective, with the hope that you won't need to suffer the same setbacks. Orthors learnt at an early stage the power of networking. They will take you on their journey of how they were able to meet key figures such as Dan Gray (CCO, UsTwo Games), Jay Ann Lopez (Black Girl Gamers), Stephanie Ijoma (NNESAGA) and many others who have directly and indirectly helped to shape them as a company.
Takeaway:
The impact branding can have
The importance of business, running a games studio
How networking can attract bigger opportunities
How to constantly adapt to new situations