Simon Byron
Yogscast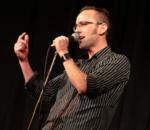 Simon Byron, Director of Publishing, Yogscast Games.
Simon recently joined Yogscast Games, part of the Yogscast entertainment network - home to over 40m YouTube subscribers, 10m Twitch followers and a wider social footprint of over 1m.

At his previous company, he was part of the team which won six awards: Publishing Hero, Develop Awards 2017; MCV Industry Hero and Indie Games Publisher of the Year in 2018; and the unprecedented 'Triple Crown' of UK publishing awards in 2019, picking up accolades from MCV, Develop and TIGA. Before that, Simon worked at various PR and marketing agencies, where he spearheaded the launch of multiple global hits such as the Batman Arkham series of games, Pokemon X&Y and the Guitar Hero franchise, where he led European media relations from the first game to Guitar Hero 5.

Co-author of two books on the games industry, and co-host of One Life Left, the world's longest-running videogames radio show, Simon remains as committed and as passionate about gaming as ever.
Simon Byron is speaking at the following session/s
Zoom, IRL
Thursday 28th October:
17.15 - 17.45
Room 3
Yes, it's been great seeing actual people back out in the real world for the last few days, but it will soon be time for everyone to head back to their designated workspace and stare down the lens of a webcam all day. Join Yogscast Games' Simon Byron and TT Games' Jonathan Smith as they help ensure you are all fully acclimatised through a series of mini games and quizzes which no doubt sound better on paper than they turn out to be on stage.
With FREE beer sponsored by