Sandy MacPherson
Kythera AI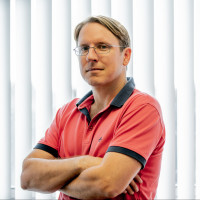 Sandy first became interested in game development at university where he created a game and engine from scratch with a collaborator. This interest has persisted due to his belief that game development is the one of the most challenging fields of programming. He has 10 years' experience in games programming including nearly three years of tools and console development as a senior programmer at Crytek, working on Crysis 1-3. Sandy is skilled in low-level optimisation and data structures and experienced in lead roles as well as in software development for other industries. Working with Kythera AI, Sandy has developed major features for Wolcen: Lords of Mayhem as well as multiple AAA partners.
Sandy MacPherson is speaking at the following session/s
Mind Your NPCs and Qs: What's Next for Game AI?
Wednesday 27th October:
15.00 - 15.45
Room 3
Game developers now have fantastic tools for building huge, complex, beautiful worlds but very often life remains absent, especially that of characters engaging with a player. Game AI has progressed slowly in the last decade, but we are now seeing signs of it picking up pace. This talk takes a look at the current state of the art in game AI, where we as an industry are still struggling, what is on the horizon and what possible solutions might look like for the as-yet-unsolved problems. Join Sandy MacPherson (an ex-Crytekker who worked on developing Crysis 1-3 and is now a Senior AI Systems Programmer at Kythera AI) and Rod Stafford, (a technology evangelist who once designed and delivered the UK's largest real-time government crisis simulation) as they describe the challenges facing game developers who are looking to bring forward a new generation of AI for games as well as celebrating some of the great successes to date.
Takeaway:

This talk will provide an educated view into the current climate of video game AI, providing attendees with a realistic understanding of what the unsolved problems are.

It aims to leave attendees brimming with ideas for things to take home and try, and inspired to be a part of the community and to help us achieve the future.