Sam Swain
Apparance Studios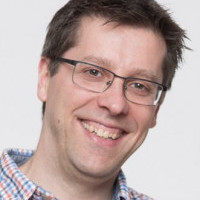 Games Developer, specialising in tools, systems, and procedural generation. Worked predominantly as a tools programmer for over 25 years, on many titles in the Fable series at Lionhead, as well as several years at Hello Games, Flaming Fowl Studios, and Elixir Studios. I set up Apparance Studios Ltd to support development of my procedural middleware system "Apparance". A toolset and engine to provide interactive, runtime, proc-gen authoring tools to plug into game engines such as Unity and Unreal.
Sam Swain is speaking at the following session/s
Building Dynamic Environments for the Dungeons of Gloomhaven
Tuesday 26th October:
14.00 - 14.45
Room 5
This talk describes the tools, technology, and techniques used to build the varied environments needed for the digital adaptation of the Gloomhaven board game for Flaming Fowl Studios. It covers the game requirements and constraints, the generation pipeline that was built, the procedural scene elements involved, the interactive nature of the tools, and, the decoration, population, and styling of maps.
Takeaways:
How hybrid approaches to content generation can draw on the benefits of each.
How procedural techniques can get you off the ground quickly.
How dynamic content can adjust to cope with a variety of constraints and changing requirements.
How a palettised approach to assets can benefit the project.
How interactive editing is a powerful tool in building complex, visual systems.
How node based systems can actually help manage complexity.