Sally Blake
Silent Games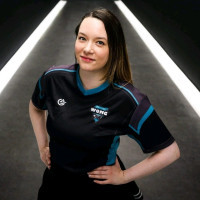 Sally Blake is the CEO of Silent Games and has worked in both AAA and indie game development for almost 10 years. She has either won or been shortlisted for multiple industry awards for developing strong, happy and motivated teams, as well as her work around diversity and inclusion. Born in Bradford and now living in Newcastle-upon-Tyne in the UK, she champions the game industry in the North of England and founded Women Making Games (WOMG) to support women in the local area. Sally has shipped numerous titles including: "Just Dance", "Watch Dogs", "Tom Clancy's The Division 1&2", "Descenders", "Yes, Your Grace", "Hypnospace Outlaw", "Britannia VR" and more.
Sally Blake is speaking at the following session/s
Building a AA Studio: From Start-up to Fully Funded
Wednesday 27th October:
12.00 - 12.00
Room 3
Sally, CEO of Silent Games will be discussing how the studio was founded, what funding pots are available for UK-based Game Developers, and tips for successfully pitching to publishers and investors. Sally will also cover how to keep a studio running financially while searching for investment, as well as how to build your studio culture and brand from scratch.
Takeaway:
How to access UK based funding for start-ups
Pitching techniques for investors and publishers
How to establish your studio culture and brand
Running a 21st Century Games Studio
Thursday 28th October:
10.00 - 11.00
Room 2
This interactive panel of pioneering studio heads will discuss how managing a modern game studio worked during the pandemic and how that translates into a successful future. Hosted by TT Games' Jonathan Smith, our panellists will explore the significant challenges facing their studios today, talk about what new initiatives they have introduced since the pandemic, and what lessons they've learned both from the pandemic but also generally from their experience of running a games studio today.
Get involved in the discussion - bring your questions to ask the panel.