Russ Clarke
Payload Studios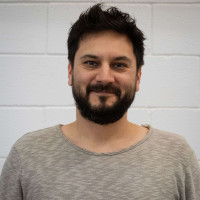 Russ Clarke has been in game development for 23 years. He has worked in several amazing development teams, from his first job at Stainless Games as a programmer on Carmageddon 2, to Ideaworks Game Studio (Marmalade) where he led on titles like Metal Gear Solid Mobile and Call of Duty: Zombies. In 2013, Russ co-founded Payload Studios, a British award-winning independent games studio with Vincent Scheurer to develop the ultimate exploration sandbox game – TerraTech.

Russ and Vincent now lead a team of 30+ passionate developers, with a strong track record in PC, console and mobile. In February 2021, Payload Studios announced that Tencent, a leading internet and technology company, has invested a minority stake in Payload. This investment will support the growth of the team and development of future titles with Payload's signature community-driven model.
Russ Clarke is speaking at the following session/s
Community-Driven Development 101
Tuesday 26th October:
14.00 - 14.45
Room 4
For many companies, community management means little more than marketing-led social media activity. London-based independent, Payload Studios, decided from the word go to make community engagement a fundamental pillar of its development method: releasing super-early, with full transparency of the internal roadmap, learning from players at every stage and steering the game accordingly. This resulted in a game which - six years after initial release - continues to see stronger commercial results, and ever-higher player ratings, year on year.

In this session, Russ Clarke, co-founder and CEO of Payload Studios, developers of the physics sandbox build-em-up TerraTech, explains how, though it may seem scary at first, a community-led development approach can reduce risk, build loyalty and keep your game healthy and growing. Delegates will also learn how this approach ultimately helped Payload Studios secure an investment deal from leading internet and technology group, Tencent, to fund future growth.
Takeaway:
How community-driven methods can deliver long term financial stability
Why, with this approach, even your mistakes can be turned to your benefit
Specific examples to put these principles into practice