Ru Howe
Stornaway.io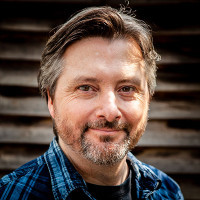 Rupert started trying to code his first "Choose Your Own Ending" video game aged 9 years old. Frustrated with the limits of technology, he began working as a director and producer in TV and film making award-winning 16mm short dramas and documentaries including "The Real Bridget Jones" series for C4. From 2004, he began experimenting with interactive films online and became a pioneer videoblogger and online video artist. He was featured in Trine Bjorkmann Berry's PhD Thesis "The Film of Tomorrow (pp 19-25) as the world's first mobile video blogger and created YouTube's first interactive video story "Indecision" in 2008. From 2010-2018, he worked as a creative workflow consultant, leading digital transformation & workflow projects for the BBC, Disney, News UK, the Financial Times and Melody VR. Stornaway is his design. A unique application to enable creative producers to map, script, edit and deliver interactive stories, simply and easily with no coding. He founded the company in 2019 with his wife Kate Dimbleby, a creative producer who has worked in theatre and music for the past 25 years. Together, they raised investment to build the first release of Stornaway and were taken on by Set Squared business incubator in Bristol, where they live with their two children.
Ru Howe is speaking at the following session/s
The Gallery - A Case Study on Interactive Storytelling in FMV Games
Tuesday 26th October:
17.00 - 17.45
Room 5
The session will start with a short introduction from George Blagden, lead actor in the FMV Game "The Gallery" (subject to availability), this will be followed by a presentation of a 10-15 minute extract from "The Gallery" showing how the game works on screen. Paul will then speak for around 10 minutes on how he interactivated the script to 'The Gallery' from an original linear version, as well as how he wrote the interactive script for '5 Dates' from scratch. Rupert Howe will then speak for around 10 minutes on the Stornaway "islands" concept of game design, how to build a project, and how the software works. He will also speak about how it integrates with different platforms - enabling creators to deliver out to YouTube, Unity, Unreal amongst others. Finally, there will be a Q&A with - Rupert Howe, - Paul Raschid, - hopefully George Blagden, - Kate Dimbleby (Co-CEO Stornaway.io) and - Neville Raschid (CEO- Aviary Studios).
Takeaway:
The process of creating a FMV game from script to screen, either adapting a linear story or writing from scratch.
How to use flow charts to develop the game story.
How the "islands" map concept helps to create and edit a FMV Game.
How this "island" map concept integrates with other platforms.