Rebecca Sampson
Hangar 13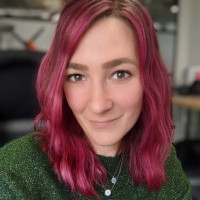 Rebecca Sampson, Women in Games Ambassador and Advisory Board member. Director of Operations at Hangar 13 who won the Women in Games Outstanding Corporate Ambassadors of the Year Award.
Rebecca Sampson is speaking at the following session/s
Women in Games IRL Coffee (+ Cake) Break @ Develop
Wednesday 27th October:
15.00 - 17.00
Room 6
Come along to the first Women in Games 'coffee (+ cake) break' - in real life at Develop Conference, Brighton!
Hosted by Corporate and Individual Ambassadors of the Year, Hangar 13 and Rebecca Sampson, this special meet up will be a fantastic opportunity to catch up with friends and supporters of Women in Games, old and new, plus there will be the added bonus of tea, coffee, prosecco and cake!
Come raise a glass with us and enjoy some tasty treats in the Osborne Room at Brighton Hilton Metropole, Wednesday 27th October, from 3pm until 5pm, during this year's exciting Develop conference week!

Reserve your place here