Pavle Mihajlovic
Flavourworks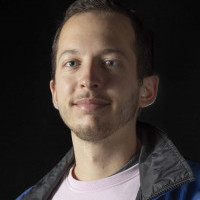 Pavle Mihajlovic is the co-founder of Flavourworks. He moved to the UK from his native Portugal to start his game development career at 18 years old as a programmer at Peter Molyneux's 22cans. After working on Curiosity and Godus at 22cans, he moved on to start Flavourworks, where they released Erica, an innovative marriage of film and games published by Sony Interactive Entertainment. Pavle developed the studio's in-house, multi-platform Touch Video technology which enables Flavourworks to make tactile environments in a seamless, cinematic, live action world. In late 2019, Flavourworks announced a £3.5 million Series A funding round led by Hiro Capital and Sky, and continues to work with publishers on new film/game hybrid projects. Pavle is a member of BAFTA and was recently a member of the jury for BAFTA's Best Game category.
Pavle Mihajlovic is speaking at the following session/s
The Principles of Empathetic Programming
Tuesday 26th October:
16.00 - 16.45
Room 4
Whether you are working alone or in a team of hundreds, creating a program of real complexity will inevitably involve the work of many other people who work with you, or created the libraries, platforms and specifications that you depend on. Your work will then go on to interact with many programmers in the future, including yourself. Programming is as much about communicating with machines as it is about communicating with your colleagues, past, present and future.

In such an environment, empathy is an essential tool. Being able, and willing, to put yourself in someone else's shoes is as hard as it is important. In this talk Pavle Mihajlovic, co-founder of Flavourworks, will go through how lack of empathy can cause major technical issues, why imagining not knowing something is so hard, and how to use empathy as a superpower.
Takeaway:
• Why it's hard to imagine not knowing something, and what we can do to compensate for it
• Why it's so much harder to read code than to write it
• How making a conscious effort to be empathetic can make you a better programmer