Paul Raschid
Aviary Studios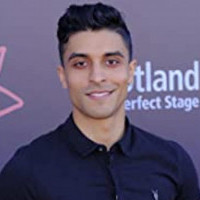 Paul first went onto a film set in 2007 aged 14 when he acted in 'Ealing Comedy' alongside Kulvinder Ghir (Goodness, Gracious Me) and Alistair McGowan. Stints as a runner on 'Naachle London' and reading scripts for his father, producer Neville Raschid were followed with him writing his first screenplay in 2012. Neville recognised and then nurtured Paul's talent and in 2014, Paul wrote and acted in teen horror 'Unhallowed Ground' which screened at the London Independent and British Horror Film Festivals before being distributed by Kaleidoscope in the UK and Jinga internationally. In 2015, Paul wrote and directed his follow up horror - 'Servant's Quarters' - which screened at the Raindance Film Festival in 2016. In 2017, Paul wrote and directed 'White Chamber'. The film was selected for 10 film festivals worldwide in 2018 including Edinburgh, FrightFest London, Sitges and BiFan, South Korea. Shauna Macdonald won Best Actress at BAFTA Scotland 2018 for her performance in the film. The film was picked up and released by MPI on DVD and sold to Netflix where it played til end January 2021. In 2019, producer John Giwa-Amu engaged Paul to direct 'The Complex' – a thriller FMV Game – from a script by Lynn Renee Maxcy (The Handmaid's Tale). John then commissioned Paul to write and direct 'Deathtrap Dungeon' – a fantasy adventure FMV Game and write and direct 'Five Dates – a rom-com FMV Game'. Paul had found his niche in interactive storytelling. The Complex and Five Dates both released on Playstation, Xbox, Switch and Steam. 'Deathtrap Dungeon' is due to release in 2021. Paul's current project is 'The Gallery' – a drama - thriller. It filmed for 6 weeks in Finchley, North London from 8th February to 20th March 2021. Post-production on 'The Gallery' is proceeding at pace and the FMV Game should be completed by October 2021. It will maintain Paul as one of the most prolific FMV Game key creatives in the world. 'The Gallery' is aiming for a film festival run before it's release in early 2022 on both interactive and linear versions. Paul has a number of FMV Game projects in development. The website www.paulraschid.com gives further information about Paul's career to date.
Paul Raschid is speaking at the following session/s
The Gallery - A Case Study on Interactive Storytelling in FMV Games
Tuesday 26th October:
17.00 - 17.45
Room 5
The session will start with a short introduction from George Blagden, lead actor in the FMV Game "The Gallery" (subject to availability), this will be followed by a presentation of a 10-15 minute extract from "The Gallery" showing how the game works on screen. Paul will then speak for around 10 minutes on how he interactivated the script to 'The Gallery' from an original linear version, as well as how he wrote the interactive script for '5 Dates' from scratch. Rupert Howe will then speak for around 10 minutes on the Stornaway "islands" concept of game design, how to build a project, and how the software works. He will also speak about how it integrates with different platforms - enabling creators to deliver out to YouTube, Unity, Unreal amongst others. Finally, there will be a Q&A with - Rupert Howe, - Paul Raschid, - hopefully George Blagden, - Kate Dimbleby (Co-CEO Stornaway.io) and - Neville Raschid (CEO- Aviary Studios).
Takeaway:
The process of creating a FMV game from script to screen, either adapting a linear story or writing from scratch.
How to use flow charts to develop the game story.
How the "islands" map concept helps to create and edit a FMV Game.
How this "island" map concept integrates with other platforms.