Nader Alikhani
Atomhawk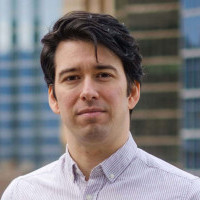 Atomhawk is an award winning visual development studio that works with AAA clients on projects including Call of Duty, Halo, FIFA and Minecraft. Nader is Atomhawk's Creative Development Director, driving growth in the studios in North East England and Vancouver, Canada. He has worked in both a development and art capacity in the games industry, offering a unique insight into the practical considerations for art both now and in the increasingly technical future.
Nader Alikhani is speaking at the following session/s
State of the Art – The Future of Visual Development
Tuesday 26th October:
16.00 - 16.45
Room 5
Atomhawk is an award winning visual development studio. Since being founded in 2009 they have been involved with developing concept art for some of the world's best know franchises, including Halo, Call of Duty, Minecraft and FIFA. This talk will look at the current concept art development process and then explore how this will likely change in the future. The talk will explore how areas like AI will be leveraged for speed, scope and creativity. How technology and tools will need to evolve to ensure work is fit for purpose. And, ultimately, the skillset that artists of the future will need to embrace to ensure they stay relevant and able to perform in the games industry of the future.
Takeaway:
• Practical understanding of the current visual development stages and process ("I know how concept art is made and the stages involved") • Case study examples from AAA projects ("I learned how art is made for a famous game I am familiar with") • The emerging role of AI in art development ("I got an insight into how artificial intelligence will enhance and replace some elements of the current process")
• Insight into new tools and technology ("I learned about new plugins and technology that people are beginning to use to help make art. I might try them myself now.")
• Advice on the skills required to be an artist in the games industry in the future ("I learned which areas to train in to ensure I stay relevant in my field")