Matt Busuttul
Waving Bear Studio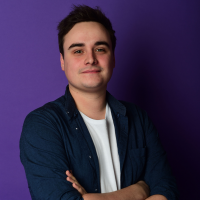 Co-founder of Waving Bear Studio. After graduating from University, Matt worked on a variety of projects from film to VR. He took to the plunge into the indie world bringing the talented people he met along the way. Creating their first studio, which has now fully funded the development of its debut title Stuffed.
Matt Busuttul is speaking at the following session/s
From Classroom to Boardroom
Thursday 28th October:
15.00 - 15.45
Room 1
From graduating from university to securing funding for their first title, Waving Bear Studio explains how they transitioned from students to professionals. Originally choosing to form a studio instead of taking a placement year at university, they will share key takeaways from their 3-year journey post-graduation, whilst offering advice to others in a similar position. Talking points include securing funding, handling rejection, staying passionate, motivated, and open-minded, as well as always ensuring you are still having fun.
Takeaway:
How to secure funding without a publisher.
How to handle rejection and stay passionate and motivated.
What we wish we had known at the start of this journey.