Leanne Bayley
Deep Silver Dambuster Studios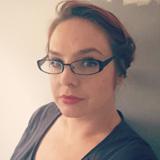 Leanne has worked in game development since 2012. From creative producer to co-founder of her own micro studio, to Lead 2D/UI Artist, Leanne has reprised many of the roles required to make, finish and release a game. Along side her work making games, Leanne has also mentored with Make Play Code and Limit Break, and is a two time Gamerbake winner.
Leanne Bayley is speaking at the following session/s
Ask Me Anything: Questions for the Artists
Thursday 28th October:
16.00 - 16.45
Room 4
Come to this interactive panel to ask creative directors some burning questions that all artists face during their careers. Bring your questions and maybe some answers.
Discussion topics will include:
What is the hardest thing about being an artist in the games industry?
What makes an artist's application standout?
What does a technical artist do?
What is your day to day life in your role in your art specialism?
How can I get feedback on my portfolio?
What do you wish you had known when you first started as a games artist?
How might making art for games change with new technology in 5-10 years' time?
What proportion of a games art team are each speci