Kate Edwards
Geogrify/Global Game Jam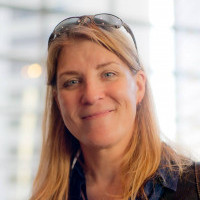 Kate Edwards is a 27+ year veteran and an outspoken, award-winning advocate of the game industry and the Executive Director of the Global Game Jam, as well as the former Executive Director of the International Game Developers Association (IGDA). She is also a professional geographer and corporate strategist who pioneered and specializes in content culturalization. Following 13 years at Microsoft, she has consulted on many game and non-game projects for BioWare, Ubisoft, LEGO, Google, Amazon, Facebook, and many other companies. She was also profiled in the December 2018 publication Women in Gaming: 100 Professionals of Play, and was most recently honored with the Ambassador Award at the Game Developers Choice Awards at GDC 2020.
Kate Edwards is speaking at the following session/s
Rising Global Challenges to Game Creation
Wednesday 27th October:
14.00 - 14.45
Room 2
With over 27 years of experience in games as a geographer and culturalization strategist, Kate Edwards has seen it all when it comes to geopolitical and cultural challenges that may be overlooked in game creation and can negatively impact a title's release overseas. As more governments now extend their content policies beyond their borders, we're seeing a sharp increase in content being rejected for not adhering to a single worldview. In this new talk, Kate discusses what game creators can do to be better prepared for defending your creative vision against intrusive local regulations.
Takeaway:
Attendees will gain a deeper understanding of how to create a content defense strategy, and be more forward-thinking about how their game content may be compatible or incompatible with specific markets. In particular, this talk will help equip creators with a framework for how to proactively develop a comprehensive reaction strategy that ties directly to their individual/company values. As a result, if/when an issue ever arises in a specific market about their creative choices, they will be fully prepared for a response.