Jon Ingold
inkle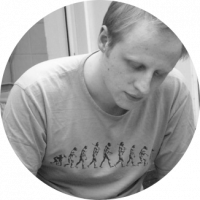 Jon's focus is on content, working from the initial outline, through the development of the authoring tools, to the writing and scripting of final content.
Previously, Jon was a lead designer at Sony Computer Entertainment Europe, and before that a secondary school teacher, so he loves to talk. He's a published author of short stories and over a decade's worth of award-winning interactive fiction.
In the past he has also played jazz trombone, led an improvised comedy troupe and edited a film review site, but he now lives a quiet life in Cambridge with his wife, two children and cat.
Jon Ingold is speaking at the following session/s
Being Boring: How Less Innovation Made Overboard! a Hit
Tuesday 26th October:
12.00 - 12.45
Room 3
Indie studios are known for taking risks and trying out bold new design that shape the future of the whole industry. But why should indie be the unpaid R&D arm of big studios? Small devs have a different superpower - speed. In this talk, narrative director of inkle, Jon Ingold, will detail how not being innovative, and taking as few creative risks as possible, allowed the award-winning studio to produce Overboard!, a hit game with a fresh concept and +85 metacritic, in just 100 days.
inkle were shortlisted for their game Heaven's Vault in the Develop:Brighton Indie Showcase 2019.
Takeaway:
How to use cliche and trope to your advantage
How to scope aggressively without compromising your vision
How to build a project around a team, rather than the other way around