Johnny Venables
Dream Reality Interactive / Sports Interactive SEGA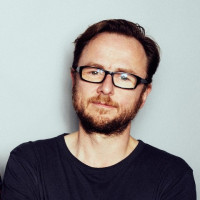 With 25 years of experience across the Games, Interactive Software and Technology Industries, working for companies such as Sony, Microsoft and SEGA. Johnny's direct creative involvement in a multitude of commercially successful video games has reached close to 200 million gamers. Such titles include PlayStation Home, The Getaway, SingStar, EyeToy and Football Manager.
As Principal Creative Director for Microsoft, Johnny worked with VR/MR/AR as well as other emerging technologies, such as blockchain, AI, machine learning, computer vision etc. This work led to 6 technology patents successfully filed for Microsoft.
Johnny Venables is speaking at the following session/s
Ahead of Its Time: Why is PlayStation Home One of the Most Talked About Games of 2022?
Wednesday 13th July:
14.00 - 14.45
Room 4
The metaverse, or Web3, is being heralded as the next big thing in the digital world, with 70% of brands saying they need a significant presence in it and 50% of those have admitting they have no idea how to achieve it. And the world of crypto currencies, NFTs and blockchain requies virtual spaces to be built so they can sell land in this brave new world. This opens up a great opportunity for games developers, our services have never been in such high demand….

But who knows the most about these digital spaces? What works, what doesnt… what makes them sticky, what sells and what causes upset? The answer is the pioneers! and PlayStation Home was one of the first and most influencial. A virtual community space with social games, avatars, dancing, land & digital clothing for sale and all the technical gubbins behind it all. Sony, as ever, arrived at the party early and learned a lot. Consequently, everyone is looking at PS Home and it can help us now.

This panel discussion brings together some of the founders and key voices of PS Home to understand what they learned, how they have used that knowledge and how it applies to the future. With a mix of foundational questions, topical insight and some fun along the way, this will be a lively and informative conversation of best in class web3 development.
Takeaway:
Cut through the hype to understand what it really takes to make a successful virtual community in a multiplayer world.
Understand how to make a metaverse sticky: what works for retention and what doesn't.
Hear from PS Home veterans how they have applied their expertise to current and future projects.