Jo Haslam
Snap Finger Click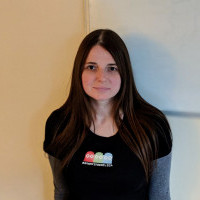 Jo has been a game designer for 13 years. She started out in the games industry on the BAFTA award-winning Buzz! quiz franchise. She was the lead designer on Family Feud, It's Quiz Time, Furby BOOM!, and the official Fantastic Beasts game. Jo has a passion for social gaming and strives to bring something unique to every game she works on. She currently works as the Design Director at Brighton-based Snap Finger Click, a studio that specialises in creating multiplayer party games.
Jo Haslam is speaking at the following session/s
Pandemic-Proof Play: Adapting local multiplayer games for post-Covid socialising
Thursday 28th October:
11.15 - 12.00
Room 4
The world changed in 2020, but as we come out of the pandemic, things may have changed forever. Many people have gotten used to working from home, learning from home, and even socialising from home. As we return to our normal lives, some of these new routines will be here to stay, and while we start to meet up face-to-face again, we've discovered that socialising online can be easy, fun, and a cost-effective way to see our friends and family. But where does that leave local multiplayer games that, up until now, have relied on players physically being in the same room? At Snap Finger Click, we make local multiplayer games that can also be played together remotely. Last year, we discovered that we'd serendipitously made games that were perfect for a pandemic. With the option to play using your phone as a controller or play via the chat on Twitch, our local multiplayer games were selling 10x their normal amount as people searched for ways to socialise online. At this talk, you'll learn how to make a local multiplayer game appeal to this new group of remote socialisers who want the party vibe of the living room in an online space. There are a number of ways to accommodate remote play without compromising the game design. Hear about all the things we got right, the things we got wrong, and what the future holds for this new way to play.
Takeaway:
Having a traditional online mode isn't a substitute for what can be achieved with a local multiplayer game. The practicalities, the accessibility to casual gamers, and the off-screen interaction all present a challenge. There needs to be a more social way.
Letting players use their phone as a controller means they can join from anywhere with a device they already know and are familiar with.
Twitch integration is a great way to introduce the game to a bigger audience. Allowing players to participate from any device that can browse the internet just by typing in commands makes the game accessible to anyone.
Features can be easily added to local multiplayer games to make them work remotely without taking anything away from the game design. Give the players the choice to play in the living room or socialise remotely and have just as much fun either way.