Jim Croft
Frontier Developments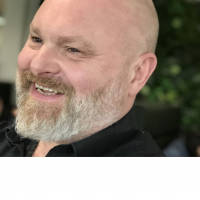 Jim has been creating and directing audio in games for over 20 years. As a musician and composer he has produced and implemented music for over 15 titles and contributed to the sound design of many more.

He is Director of Audio at Frontier Developments PLC, where he has been for the past 9 years. During this time the company has released Elite Dangerous, Planet Coaster, Jurassic World Evolution, Planet Zoo and Jurassic Evolution 2, all of which have been credited for their compelling audio.
Jim Croft is speaking at the following session/s
Post-Pandemic Directions for Game Audio Employment
Thursday 14th July:
12.15 - 13.00
Room 1
Has the COVID Pandemic changed the working landscape forever? With the continuing boom in video games development and an unprecedented level of open roles for Game Audio, what are the challenges and possible solutions to both deliver and innovate? With many developers exploring hybrid and remote working, there are potentially more opportunities to hire experienced talent - but at what cost? Veteran Head of Audio and Audio Director, Alastair Lindsay discusses future directions and issues for game audio employment with a panel of special guest experts.
Takeaway:
Gain insight into future strategies for sourcing and supplying audio production resources.
Learn where you fit into the current and coming game audio economy.
Benefit from expert viewpoints on post-pandemic challenges and opportunities for audio talent.
Learn how best to utilize hybrid and remote working in-game audio employment.
Open Mic 2022
Thursday 14th July:
17.45 - 18.30
Room 3
In keeping with Develop Conference tradition, our panel of game audio experts limber up for an inclusive town hall style discussion with conference delegates about the current state-of-the-art of music, sound and dialogue for games and what the future holds for game audio business, technology and creativity.