Jessica Fiorini
Schell Games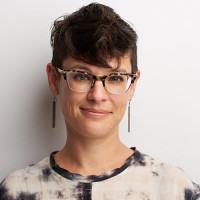 Jessica Fiorini is a senior game designer at Schell Games. She has over 20 years of experience in the games industry. Jessica specializes in location-based games but has created games for VR, desktop and mobile platforms. She has created world-class gaming experiences for institutions such at LEGO, Adult Swim, Nickelodeon, Bravo and Motown Museum.
Jessica Fiorini is speaking at the following session/s
All Aboard: Tools and Tactics for Building Team Consensus
Tuesday 26th October:
12.00 - 12.45
Room 4
On a game development team, a shared vision is crucial for success. If a team is having trouble seeing eye-to-eye, it can become a complicated problem to fix. In this talk, designers Jessica Fiorini and Marlena Abraham will walk the audience through a series of techniques that will help get their teams moving in the same direction. They will discuss the value of instilling interdisciplinary teams with the agency, ownership, trust, and most importantly, joy that will ultimately produce a better game. As Jessica and Marlena are at different stages of their careers, they'll tackle this problem from two different perspectives: as a game industry veteran and as a designer whose responsibilities are still relatively new. From these vantage points, they'll discuss communication tactics, documentation, software tools, and processes involved in building design consensus. They'll explore how a combination of soft skills (e.g. how to receive and deliver feedback) and hard skills (e.g. documenting and testing assumptions) can produce a more engaging game. Using real projects as case studies, Jessica and Marlena will model the challenges a designer might face when building consensus, then use these examples to outline solutions ranging from playtesting and prototyping to new forms of communication. The audience will learn both the warning signs that stakeholders are facing disagreements and the ways to troubleshoot miscommunication. They'll explore techniques that can solve issues that arise when leading or working with engineers, artists, sound designers, producers, and clients during various stages of game production.
Takeaway:
Solutions to build consensus around design concepts at all stages of development
Warning signs that a team is not aligned and troubleshooting methods to right the course
Tested processes, software, documentation, and communication tactics