Jemma Riley-Tolch
Molinare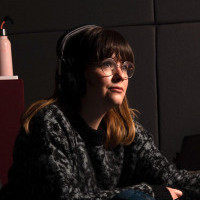 Jemma is a Senior Foley Mixer; CAS winner for Bohemian Rhapsody and Emmy nominated for Watership Down. Her drive and passion shine through in her work, providing clear and emotive recordings for all projects. Jemma's career spans all genres including hit games such as Ghost of Tsushima, The Dark Pictures Anthology and The Division. Film work includes; Rebecca, The Old Guard and Klaus.
Jemma Riley-Tolch is speaking at the following session/s
Subtlety & Nuance: A Foley Masterclass & Live Demonstration
Thursday 28th October:
14.00 - 14.45
Room 5
The multi-award nominated Foley team from Molinare come together to discuss their work and how to 'think in Foley'. Underscoring the importance and value of bespoke foley, they will share expert insights as they demonstrate some artistic performance techniques to help you understand how to create believable, subtle and nuanced results when tackling such foundational foley areas as footsteps, cloth and equipment yourself.