Ioana Cazacu
Mojiworks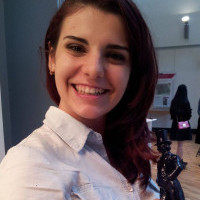 Ioana graduated BA Game Design at Brunel University, and in her first 3 years in the industry she has led game design on Mojiworks' successful title Ready Chef Go!, exclusive to Snapchat. Her main drives are innovation and diversity, and her goal is to make games that people can instantly identify with and use them to connect with the people they love.
Ioana Cazacu is speaking at the following session/s
Hyper-Social: Designing Games for Young Millennials and Gen Z
Thursday 28th October:
14.00 - 14.45
Room 4
The younger generation are relying on non verbal communication more than any other generation before it, and alongside memes and videos, multiplayer games play a huge role in this type of communication. The global pandemic has accelerated the trend that Mojiworks was started around back in 2016: the rise of a new generation of social games that we call "Hyper-Social." In this talk I will share with you valuable insights into the social gaming behaviours of the younger generation, and how we go about designing our games with their input. I will deconstruct our game Ready Chef Go! that has been played by over 70 million Snapchatters and I will talk about how our data oriented approached helped us build features that our Gen Z audience loves.