Ian Livingstone CBE
Hiro Capital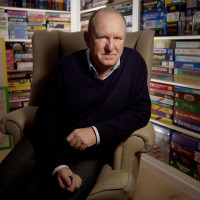 Ian is a founding father of the games industry. His career began in 1975 when he co-founded iconic games company Games Workshop. He became Chairman of Eidos plc in 1995 and launched global blockbuster video games including Lara Croft: Tomb Raider. He is currently Chairman of Sumo Group plc and a Partner at Hiro Capital. He is also an angel investor in video games studios and non-exec director of Fusebox, Flavourworks, Midoki, Antstream and Playmob. He co-authored The Warlock of Firetop Mountain, the first Fighting Fantasy gamebook in the series which has sold 20 million copies worldwide.
Ian Livingstone CBE is speaking at the following session/s
Show Me The Money
Tuesday 26th October:
15.00 - 15.45
Room 2
Ian and Luke will talk about equity funding options available to games studios looking to expand or scale up their businesses. They will cover seed, angel and venture capital, explaining the benefits and suitability of each type. They will also advise on how studios should make themselves 'investor-ready' for when funders begin their pre-investment due diligence. Delegates will have a better understanding of what investors look for when making investment decisions and also have a clearer idea on how to present to potential investors. They will also learn about how investors bring more than just money to the table.
Takeaway:
Learn about various types of funding and how equity partnerships work A better understanding of investors Learn how to present to investors