Iain Brown
Hello Games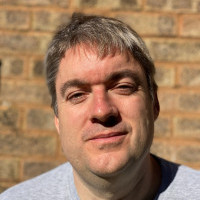 Iain's been making games for a long time and has been focused on online and multiplayer experiences since Burnout 3 in 2004. He's worked at companies including Sony, EA, and Lionhead and joined Hello Games to help with the launch of No Man's Sky when they were only 15 people. Not a whole lot larger today, Iain wears many hats and is responsible for making sure the servers continue to work and that players can play online across the game's near-infinite, procedurally generated universe.
His proudest achievement was having someone cosplay him swigging from a champagne bottle in a recreation of THAT No Man's Sky gold photo.
Iain Brown is speaking at the following session/s
Case Study: How No Man's Sky Used Azure to Share an Infinite Universe
Wednesday 27th October:
15.00 - 15.45
Room 1
Xbox veteran and Azure gaming lead Harvey Eagle is joined by Iain Brown, Server and Multiplayer Lead for Hello Games, to discuss how No Man's Sky's procedurally generated universe was shared by its players. From cross-play, in-game communication and database management, to scaling server infrastructure to cope with player demand, you'll learn more about how Azure and Azure PlayFab helped enable players to share the No Man's Sky universe.
Takeaway:
An understanding of the Microsoft Game Stack and how it can help game creators realize their vision
Learn about Azure and Azure PlayFab implementation in No Man's Sky
Find out more about Azure for game developers