Hal Sandbach
d3t – A Keywords Studio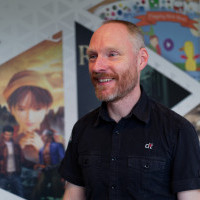 I started working as a game designer back in the heady days of 1997, fumbling my way through the process using a combination of general gut feeling and taking ideas from other games. Having worked at Psygnosis, Codemasters, Warthog, Evolution and Sony, I am now to be found at d3t. Through that time, I became more and more interested in what happened within gamers' brains: what they thought, felt and experienced. What is it about some games that grabs players' attention? What is it about people that mean we enjoy different games? These sorts of question were the inspiration behind me completing an MSc in Psychology, which opened all sorts of doors to help understanding what lies beneath the principles behind good game design.
Hal Sandbach is speaking at the following session/s
Designing Better Quests Using Science
Wednesday 27th October:
11.00 - 11.45
Room 1
We love to give players tasks to do, whether we call them quests, Achievements, Trophies or something else. But other than giving some structure to the game, why do they work? What parts of our gaming brains do they tap into? Are they rewarding in and of themselves? Are we, as game developers, making the most of these opportunities to potentially increase the depth and enjoyability of our games? By exploring these questions, Hal goes into how giving players tasks (and subsequently promising future rewards) influence gamers' motivation – both good and the bad. Using evidence from scientific studies, the information enables game developers to create "game tasks" that players will find more engaging, enjoyable and rewarding.
Takeaway:
Understanding the difference between intrinsic and extrinsic motivation
Does gamification make people more or less engaged?
What is Self-Determination Theory, and how can you use it to make players enjoy your game more?
How to create more engaging Achievements, Trophies and quests.