Cari Watterton
Puny Astronaut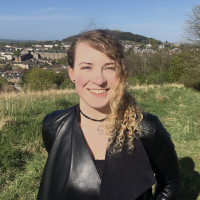 Cari is a UX Designer at Puny Astronaut, an Indie games studio in Dundee, and has worked there since 2019 on the studios debut title, Skye Tales. Cari presented a talk at Develop 2019 about the Kickstarter campaign she ran to fund her honours project. She is a Computer Arts Graduate from Abertay University, a BAFTA Games nominee, a runner up in Dare to be Digital 2016 and a participant in Dare Academy 2018 which exhibited at EGX 2018.
Cari Watterton is speaking at the following session/s
Skye Tales: Creating a UI That Couldn't Be Happier to See You
Wednesday 27th October:
14.00 - 14.45
Room 4
The brief for Skye Tales was to create a user interface for a game that didn't want a user interface. This talk goes through the full process of that UI / UX development and how the team tackled creating an interface that felt more like another part of the world than a menu. Diegetic UI is all about creating UI that doesn't break the immersion of the world, and for Skye Tales the goal was to create something that felt just as tangible and interactive as the world around it. This is an examination of the entire UI / UX development process of Skye Tales and the various iterations of the UI, with insights on the challenges of working in an indie games environment and the learning curve for a graduate in their first professional games role. Skye Tales is Puny Astronaut's debut title, a game that follows the adventures of Skye the friendly dragon in a world that couldn't be happier to see you.
Takeaway:
• Insights on creating diegetic UI/UX for games
• A comprehensive look into the UI development process for Skye Tales
• Lessons learned as a graduate UI developer in an Indie studio