Bob Makin
SockMonkey Studios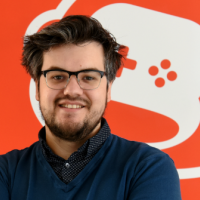 Bob started life as an Animator before moving into Production, working at Jagex, Iguana and Team17. In 2013, Bob and his colleague Darren Cuthbert, made the leap and started SockMonkey Studios. Nearly 9 years later and the team has grown to 35 people, working with the likes of Sumo, tinyBuild, Double11, Wired and Kwalee. Back in his home land of Teesside, Bob was nominated as Teesside's 22nd most influential Business Person of 2020, and regularly contributes talks and mentoring to the North East game dev scene.
Bob Makin is speaking at the following session/s
Work for Hire Studio Seeks Own IP to Develop: What Could (and did) Go Wrong??
Thursday 28th October:
12.15 - 13.00
Room 3
While working predominantly as a work-for-hire studio, in 2021 SockMonkey Studios launched their own IP, Fish Tanks. This talk will focus on some of the challenges SockMonkey came face to face with when creating their own game, as well as the downright mistakes, and what they learned on the way. The talk will cover issues associated with cost, design, timing and marketing in a 'warts and all' look at what can go wrong when making your own indie game. The talk will also feature the good side of own IP development as well as the, sometimes serendipitous, opportunities and collaborations you can encounter along the way – such as SockMonkey's work with the renowned global charity Whale and Dolphin Conservation.
Takeaway:
A better understanding of what to expect from developing your first indie game as a WFH studio
Tips on how to balance work-for-hire and own IP in a work-for-hire studio
Positive ways to adapt to sudden changes in scheduling and a quickly changing indie scene
Working with charities in gaming, and how it can benefit everyone