Bernd Diemer
Improbable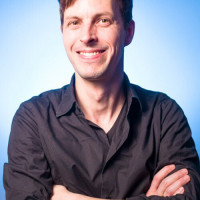 Bernd did his degree in Interactive Art and Media Theory to become an artist, but instead has been making AAA computer games for more than twenty years. He has creatively led and directed the creation of original IPs like Crytek's Crysis, Guerrilla Games' Horizon: Zero Dawn, and the development of franchise sequels like DICE's Battlefield and Star Wars: Battlefront. Together they received over 200 game of the year awards, a BAFTA, and many other awards. He's a frequent speaker on creative processes and the theory of making games at major game industry events like the Game Developers Conference in San Francisco, or the D.I.C.E summit held by the Academy of Interactive Arts & Science. He teaches Game Design as a tenured Professor in the Bachelor and Master programme at the Game Lab of the Technical University Cologne. In his spare time he draws and publishes the adventures of Duchesse Ariadne, intrepid penguin adventuress of the 19th Century. He joined improbable because it's the place to be for challenging the future of games and how they are made successfully.
Bernd Diemer is speaking at the following session/s
10,000 Players, One Match: Experiments in Game Design with Massive Interactive Live Events
Tuesday 26th October:
14.00 - 14.45
Room 2
Discover how the team behind ScavLab - the experimental sandbox testing platform within 'Scavengers' - tackled the challenge of creating engaging gameplay for massive scale live events, where thousands of simultaneous players gather together in the same communal hub. Explore the creative process behind crafting intimate game experiences at scale, what mechanics were successful, and which didn't work out. Learn how community feedback can help the developer to deliver a shared real-time environment keeping a smooth performance with thousands of players connected. Dive into game mechanics focused on entertaining thousands of players by using different gameplay elements such as realistic game physics, AI-controlled enemies, and virtual environments. The talk will also cover some of the technological challenges, both client and server side, to deliver high-concurrency gameplay events on worlds with thousands of players.
Takeaway:
Attendees will understand the considerations behind creating engaging gameplay experiences for thousands of simultaneous players
An insight into the development of large-scale player events, and what impact that will have on future multiplayer experiences
Early progress in creating metaverse experiences for players, and its potential for reshaping the industry