Ben Roberts
License Global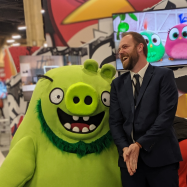 Ben Roberts studied journalism and culture at Canterbury Christ Church University before moving to London to begin his career in content design. After traveling the world in various roles looking to tell stories through video, audio and written content, Ben's love for pop and cult culture, gaming, movies, and comics brought him to the world of intellectual property.
Ben Roberts is speaking at the following session/s
How Your World Builds Fans (and How Fans Build Brands)
Thursday 28th October:
12.15 - 13.00
Room 1
No matter what role you have in gaming, what game you're developing, or your reason for building a game, it all leads to fan engagement. These are the people that play your game, stream your game, get good at your game, get frustrated with your game, review your game, and demand more from the universes you build. Fans, to put it simply, turn your world into something they adore, own, and engage with. In turn, transforming that world into a living, breathing brand. This talk works with brands and why you see gaming imagery on t-shirts, exactly how powerful, creative and exciting licensing can be for fans, and why you need to build a game with a brand in mind.
Takeaway:
How fandom works, and why intellectual property is a key first step in game design
How to create a game, universe, story or property that can evolve into new products
Why going from indie success to global brand isn't a bad thing