Ashley Wharfe
Waving Bear Studio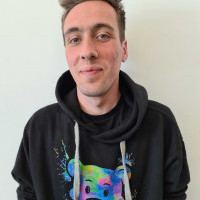 Ashley Wharfe is a 3D artist, and one of the co-founders of Waving Bear Studio. Before entering the games industry he worked as a graphics designer but decided to bring his passion for creativity to his life-long hobby of gaming. He formed Waving Bear alongside friends from University, moving down to sunny Cornwall to begin his indie journey.
Ashley Wharfe is speaking at the following session/s
From Classroom to Boardroom
Thursday 28th October:
15.00 - 15.45
Room 1
From graduating from university to securing funding for their first title, Waving Bear Studio explains how they transitioned from students to professionals. Originally choosing to form a studio instead of taking a placement year at university, they will share key takeaways from their 3-year journey post-graduation, whilst offering advice to others in a similar position. Talking points include securing funding, handling rejection, staying passionate, motivated, and open-minded, as well as always ensuring you are still having fun.
Takeaway:
How to secure funding without a publisher.
How to handle rejection and stay passionate and motivated.
What we wish we had known at the start of this journey.