Andrew Smith
Spilt Milk Studios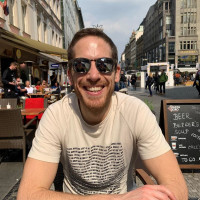 A Designer and Writer with over 15 years of experience developing games, amongst them the Scottish Bafta-winning Flock!. Andrew started out making mods for Half Life, worked his way through many roles, and is following his childhood dream as the founder and CEO of Spilt Milk Studios, developing & publishing original games across mobile, consoles and PC.
Andrew Smith is speaking at the following session/s
Develop: FTUE (First Time User Experience)
Tuesday 12th July:
11.00 - 11.45
Room 5
A relaxed and informal roundtable designed to help you get the most out of your time at the conference. A diverse panel of friendly and experienced devs from across the whole industry spectrum want to help anyone who feels shy, awkward, a little out of place, on the outside, or just unable to really squeeze all the goodness out of this amazing show. You'll feel positive, empowered and fully equipped to have an absolutely smashing time, with tips on how to be productive, tools to network, and commitments from volunteers to be your safety net should things get a little too much! Finally, should you feel like it would help, we'll match people up with Show Mentors to ensure however long you're in Brighton, you go back to your studio feeling invigorated and inspired!
Shared experiences that will give you some ideas on best practise plus do's and dont's for networking at every event.
Recommendations for talks to attend and delegates to meet, plus practical help to do so!
Knowledge of safe and quiet spaces to help manage your experience at the show
A mentor committed to helping you for the duration of the conference with introductions, meetings, advice, and someone to lean on!