Adam Boyne
BetaJester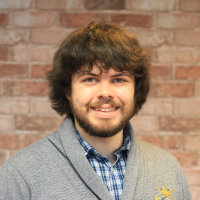 Adam is the co-founder of BetaJester Ltd; a VR, AR, and games development company based in Yorkshire, and Game Dev London, a large community and podcast group for game developers around the world. A programmer by trade, Adam is also a Limit Break and Transfuzer mentor, Video Games Ambassador, part of the GI.Biz Future Talent 100, event organiser, and e-mentor for lots of aspiring game developers and student entrepreneurs across the country. He regularly gives talks about breaking into the creative industries, tips on building a successful studio, and how to take a project from idea to delivery. He works on BetaJester's interactive digital experiences, ranging from virtual training environments to augmented shopping experiences, as well as their own internal projects.
Adam Boyne is speaking at the following session/s
Cultivating Better Code: Get Better At Everything Around Programming
Thursday 28th October:
11.15 - 12.00
Room 6
Description: As programmers, we tend to find ourselves settling into habits, both good and bad. This roundtable will focus on what we could all be doing to get into better habits, the tips and tricks we've picked up along the way, and what we can all be doing in the future to keep improving our code and to build better games.
Takeaway:
Learn which habits are worth breaking and which are worth keeping
Discover new ways to improve your programming
Build better infrastructure for your games to make long term support easier