Abbie Dickinson
Rebellion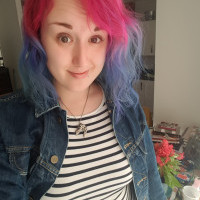 I'm a Comms, Social Media, Marketing, Brand, PR (and all the other things that fall under that bracket) professional with 5+ years experience 2 of which have been in the games industry. I used to Lead the Marketing at Games Jobs Direct and the Game Dev Heroes awards. While at Games Jobs Direct I got to work with some incredible clients on building their brand based on their studio and culture, not just their games and I decided that's was what I wanted to do full time. I'm currently Brand Communications Manager at Rebellion where my job is to build the brand of the studio, let people know who we are as a company, what our internal culture is like who Rebellion is behind the games.
Abbie Dickinson is speaking at the following session/s
Why Marketing Your Studio is Just as Important as Marketing Your Games
Wednesday 27th October:
14.00 - 14.45
Room 5
Studios spend much of their time and money marketing their games and the projects that they're working on, which makes a lot of sense. At the end of the day the games bring in the money! But few studios spend time explaining who they are, what their culture is like, and why people should want to work for them. For too long studio cultures have been opaque, hidden behind secret projects and NDAs and unfortunately, for some studios, this has allowed toxic environments to fester. In her role at Brand Communications Manager at Rebellion, Abbie spends her work hours building the brand of Rebellion beyond just the games they make. Talking about your studio and your culture is more important than ever. It's not just important for hiring and attracting talent. It can be vital for third-party studios and service providers to attract business, reassure partners, and gain that brand recognition in a positive light with gamers and game developers alike. In this talk Abbie will explain her vision for what studio branding and marketing should look like in the future. She will explain how you can start talking about your studio beyond the games that you make. How this will allow you to outline what is important to you as a company, why participating in the games industry as a whole is vital, and how this will attract new business, and build your brand identity within the games industry – when it's done right.
Takeaway:
You will know why Marketing your games studio is just as important as marketing your games
You will know how to start talking about your studio, and where to look for inspiration.
You will have a tonne of ideas and inspiration on how to start communicating your culture to the outside world