James Stone
Unity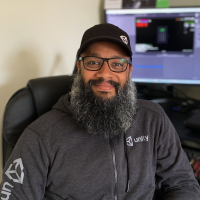 With expertise in Unity as a PC & console game developer and decades of business experience, James joined Unity Technologies in 2018 and is currently the Senior Technical Product Manager for Consoles R&D. James provides a clear objective understanding of how Unity is used in console development and drives positive change and innovation within the product.

After a successful 22 year career in senior technical leadership within the IT industry, James followed a lifelong dream of becoming a game developer. Self taught, James founded NerdRage Studios in 2016, with a focus on making retro inspired games for PC and Consoles. James solo created Jump Gunners in 2017 and is now working with a small team on the critically acclaimed Xenosis: Alien Infection, the Xbox showcased & Fig funded retro sci fi horror, which Rock Paper Shotgun awarded top 10 game of EGX 2019.

James is a diversity and inclusion champion & public speaker, and is devoted to helping other black game developers and marginalised groups reach their potential. James is the community lead for the black ERG at Unity, and is working to create an industry wide program that aim to address the underrepresentation of black people in the games industry.
James Stone is speaking at the following session/s
Console Development in Unity
Thursday 28th October:
15.00 - 15.45
Room 2
Delegates will watch a presentation and participate in a Q&A with James Stone, the Senior Technical Product Manager in Consoles R&D at Unity Technologies. He will share tips and best practices for bringing your Unity games to consoles, offering insights into places where studios typically struggle and help you overcome any potential hurdles that may impact your project. You will also be able to provide direct feedback during this session, to directly influence the future of Unity, helping you achieve greater success in your future games.
Takeaway:
Greater knowledge of console development practices
Knowledge of how to avoid common development pitfalls
Your chance to provide direct feedback on your experience developing for consoles, and input into the future of Unity