Adam Pearce
Glowmade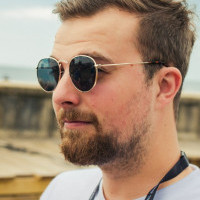 I have about 7 years of industry experience now, spending most of my time at Criterion, Electronic Arts. There I worked on some of the biggest franchises in gaming like Battlefield, Battlefront and Need for Speed. I've always been a jack of all trades when it comes to discipline, I enjoy a bit of art at times but my main line of work is programming being a Gameplay Programmer most of my professional career. I dabbled as a Producer for a year too on NFS. After spending lots of my time on big AAA titles, a year ago I left and joined a lovely indie studio called Glowmade where I was made Lead Programmer. We're working on something really fun and exciting that will be shared soon but when I'm not making or playing games I'm climbing, spending time with pals or taking my super cute Corgi out on adventures.
Adam Pearce is speaking at the following session/s
Learning to Lead a Craft Team: Year One
Tuesday 26th October:
14.00 - 14.45
Room 3
Leading a team can be hard and doesn't always come naturally to everyone. It is something that when done well can propel a team into success. When ignored however, can topple even the most talented set of people.

This talk outlines some of the learnings that I've made after my first full year as a Lead Programmer and the run-up prior as a Producer. Although there may be some specific cases that other crafts won't come across, I've tried to generalise as much as possible for fledgling leads in any craft.

This talk aims to open up the conversation about responsible leadership within games. I'll talk about team management, trusting your team, and some simple lessons that can be transferred into your day-to-day work life. There's lots of material focused on leadership but few on what that is like in the unique context of game development. Hopefully, with these few pointers, you can reduce the stress of managing a team and focus on making fun and exciting games!
There is, of course, no one way to lead a team, but at least with this information, people don't have to make the same mistakes that I have up to this point!

Takeaway:
In this session you should takeaway:
- A few mistakes that I've made as a lead and things that should be avoided.
- Several tips and tricks that will help you manage a team in the long run, setting you up for success.
- A few considerations about what it means to lead and how the role is different from others.