Studio Waterzooi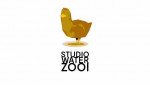 Studio Waterzooi are onre of the finalists in the Indie Showcase with their game Please, Touch The Artwork.
Please, Touch The Artwork bundles a set of calm, compelling artsy puzzle games based on real abstract paintings. It answers the question: What happens if we actually DO touch the artwork? It aims to be aesthetic, relaxing, inspiring & educational.
Season 1 contains 3 games, each based on a different existing Mondrian painting.
The first game tells the origin story of pure abstract art. You'll have to add colors and lines to the canvas to reproduce a series of paintings.
The second game tells the story of Boogie & Woogie, two squares who just want to be together, but a rapidly growing world is making this harder and harder. You'll have to help Woogie reach Boogie by figuring out how the obstacles influence Woogie's path.
In the third game you'll move to the big city, only to be overwhelmed with mixed emotions. From joy and excitement to being homesick and missing your friends and family. Will you be able to find your way out of the maze that is New York City?
Touch the untouchable and discover the hidden stories behind these artworks.
Get in touch with Studio Waterzooi