Studio Sterneck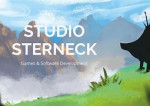 Studio Sterneck is one of our Indie Showcase finalists with their game Get Together.
Get Together is a coop puzzle adventure in which you and a friend are thrown into an otherworldly experience with unsolved mysteries and forgotten stories.
Take part in the journey of a luckless explorer who got split into two beings, separated from one another. Much like them you play divided, each on your own device of choice.
Use communication as your main tool to explore similarities and differences between your worlds and cooperate to overcome whatever blocks your path to reunion.

This game is always played by two people, each on a separate device. All the puzzles are designed so that each player only has parts to the solution.

Get Together is planned to be released in October '21.
Get in touch with Studio Sterneck