SpecialEffect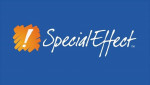 Nobody likes being left out. That's why we're a charity that puts fun and inclusion back into the lives of people with physical disabilities by helping them to play video games. By using technology ranging from modified games controllers to eye-control, we're finding a way for people of all ages to play to the very best of their abilities.
There's no one-size-fits-all way of doing this, so we meet people face-to-face to find out exactly what they want to play and what they need to play. We'll then match or modify technology to create and loan truly personalised gaming control setups.
Founded in 2007, we're now providing lifelong face-to face support on an individual basis to hundreds of people across the UK. We're also answering thousands of enquiries from around the world and having an increasing global influence through our collaboration with hardware and software developers.
Get in touch with SpecialEffect