Playtonic Friends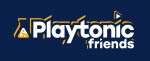 Playtonic Friends are one of the finalists in the Indie Showcase with their game A Little Golf Journey.
A Little Golf Journey is a relaxing adventure golf game played on beautiful diorama courses across a variety of locations.
Unlock secrets, discover treasure and take on challenges.
Original soundtrack composed by Haakon Davidsen
Your journey awaits.
Get in touch with Playtonic Friends