Playstack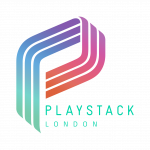 About Playstack
Playstack's mission is to embrace the diversity of brilliant ideas. We publish fearless and delightful games to their fullest potential with dedication, expertise and extensive planning.
We give our development partners the security and resources that allow them to play to their strengths as creative leaders, entrusting our experienced team to mastermind the marketing and publishing campaign.
We're all-in with the games we sign. We offer end-to-end publishing and marketing expertise for all platforms and monetisation models
About Interact
As game developers, and more importantly players, ourselves we know how intrusive in game advertisting can be. That's led us to build Interact our own in house Ad Tech Platform which is reiventing how brands work with games by making them #PartOfThePlay.
Our cutting edge technology, ensures ads are non intrusive and are serviced to interested and engaged players without irritation or interruption. With interactive billboards ready to drop into 3D environments, sponsored level takeovers, and real-life rewards put into the hands of players, Interact is built by developers for developers to bring a new dimension to in game advertising.